Bucket Explorer version 2012.03 comes with a number of new features and improved functionality.
This version now supports new features introduced by Amazon S3, e.g. Server Side Encryption and Object Expiration. Also, there are some exclusive features released in this version, like storage calculator , bookmark for virtual path, filter upload and download, dynamic content delivery using CloudFront and many more.
Click here to download Bucket Explorer 2012.03 version.

CloudFront Dynamic Content Distribution
Bucket Explorer now supports CloudFront's Dynamic Content Distribution.This new feature provides you an easy, cost effective process to increase the performance of your dynamic websites to make it more reliable and available to the world. CloudFront works like Amazon EC2's running applications. Now you can combine your origin, running from inside of AWS as well as outside of AWS. It is very simple but is more usable and has reliable service. Try this servcie using Bucket Explorer.
Set Minimum TTL for CloudFront :
Now you can use Bucket Explorer to create and manage CloudFront distributions for frequently changing content.
Bucket Explorer now supports CloudFront's latest and recently announced functionality to set minimum expiration period (TTL or "time to live") on objects. Earlier, CloudFront edge locations are used to cache the objects for 60 minutes. Now you can set a minimum TTL from 0 to ~3,153,600,000 seconds (100 years). So the minimum TTL value can be a minimum of 0 seconds. You can then set the value of the expiration time for the individual files by setting cache control header. CloudFront determines, using cache control headers, how frequently the edge location is going to get an updated version of the file from the origin.
Bucket Explorer sets default value of 60 minutes, but you can change it based on the given range.
Storage Calculator:
Bucket Explorer supports a new feature to calculate the size of each folder/file in a particular bucket. Storage Calculator provides folders/files details in tree view and you can view each folder by expanding the node. After successfully listing the bucket, the size information of the bucket is added in the bottom table. This table shows details of all listed buckets. You can also show the last listed bucket information in the tree view by clicking on the corresponding row of the bucket.

Server Side Encryption:
Bucket Explorer now supports Server Side Encryption (SSE) feature provided by Amazon S3. Using Server Side Encryption, you can protect sensitive data stored in Amazon S3. Bucket Explorer provides a very easy interface to encrypt the data and upload the encrypted data to Amazon S3.
Object Expiration:
Amazon S3 Object Expiration is a nice feature if you want your data to live in S3 only for a defined period of time and want it to be deleted automatically by Amazon S3 after that time period. Bucket Explorer's Object Lifecycle feature supports AWS S3 Object Expiration.

Filter Upload and Download:
Bucket Explorer version 2012.03 allows you to ignore specific files while performing an upload or download operation. Now you can skip upload/download of specific files based on their file extension.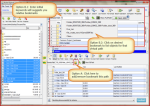 Bookmark Object listing:
Using this feature, you can save complete path of the frequently used folders. You can then get a listing of your frequently used folders in very quick steps by selecting that bookmark.
Customize Object and Bucket Toolbar:
Bucket Explorer introduces a new feature to customize Buckets and Objects toolbars. You can now select when buttons to show based on the actions you perform more.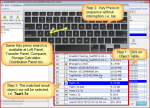 Object Search:
Now you have enhanced search options in Bucket Explorer for searching objects. You can search for the objects in two ways- Search By Prefix and Search By Prefix and Delimiter . User can now search in Object table by typing the initial characters of the searched objects. Matched criteria result will get highlighted.
Some More Changes:
You can now configure the "part size" for multipart upload or download process in Tools -> Advance Preferences .
You can close the panel by pressing Escape key.
Enhanced GUI.
Patch Release Changes:
Version 2012.03.02.02:
Added an option to configure the display size of Web URL panel thumbnails. Default size is 100 KB.
Bug fixes related to March 2012 release.
Version 2012.03.03.03:
Support for CloudFront Distribution of Dynamic Content Delivery.
Version 2012.03.03.04 :
Fixed bug for sorting in object table at main panel
Click here to see the 2011.12 Release note to see the enhancements included in the last major Bucket Explorer release prior to 2012.03 version.
Click here to know more about all versions of Bucket Explorer. Click here to see all features .