If you happen to engage in enterprises, organizations, or professions that require image hosting as part of your business, you surely must be looking for web services that are efficient as well as economical.
We usually try to optimize our web hosting as economically as possible. If the site is crowded with images, we require larger space; this means more expenditure.
Besides this, if the images are large or too many, we need more space. Naturally, the hosting server will charge as per our required space. It may impose some data transfer limitations, too.
Amazon S3 provides you the best way out as it allows you to call your images from Amazon S3 instead of calling them from your web hosting server.

All you need to do is to follow the steps given below:

Step [1]
Create an account on Amazon S3 service. Download and install Bucket Explorer at bucketexplorer.com because Amazon S3 is providing only web service interface for developers.
Step [2]
Start Bucket Explorer and create a Bucket

named like "images.bucketexplorer.com" (Bucket names are case sensitive, so try to use all lower case)
Step [3]
Create a CNAME entry in your domain's DNS manager interface (images.bucketexplorer.com should point to s3.amazonaws.com)
Step [4]
Now you are ready to access your Bucket using URL http://images.bucketexplorer.com/ - it will automatically be redirected to Amazon S3 (by your DNS server) and Amazon S3 knows that is should serve data from Bucket named images.bucketexplorer.com
Step [5]
You may not want to allow people to list all the files from your Bucket, so use Bucket Explorer and change the permissions on the Bucket in a way that no one has read access except yourself. To do this, you need to follow the steps given below:
Step 5.1 : Select the Bucket and right click to choose the option "Update Bucket Access Control List" .

Step 5.2 : Give the "READ" permission to "ALL USERS" and "FULL CONTROL" permission to "OWNER" and click to save the Permission list.


Right click on image(s) and choose "Generate Web URL" option to generate accessible http URL like: http://s3.amazonaws.com/images.bucketexplorer.com/buynowheaderbtn.png

Step [6]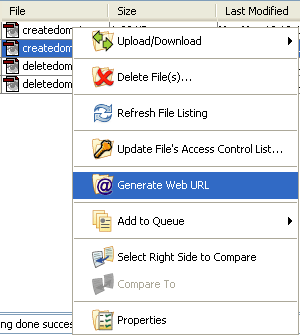 Step [7]
Now click on "Use Bucket Name as Virtual Host" button and modify each URL(s) according to your CNAME entry like: http://images.bucketexplorer.com/buynowheaderbtn.png



Step [8]
Use it with your website wherever you want to link.